GSE/GSAC Presents our 2023 Welcome Back Reception & Cookout!
4:00 pm - 7:00 pm
Voorhees Mall and 10 Seminary Place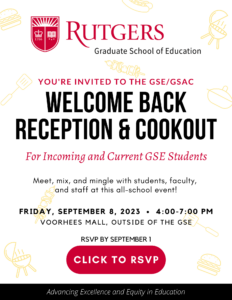 Rutgers Graduate School of Education invites Incoming and Current Students to our annual Welcome Back Reception and Cookout on September 8th, 2023 from 4:00 pm to & 7:00 pm, outside of the GSE on Voorhees Mall! It's time to reunite as a community while indulging in some delicious food. Not to mention the lively atmosphere filled with laughter and smiles! This event will be the perfect opportunity to catch up and meet faculty, staff, and fellow GSE students after a long summer break!  So mark your calendars because this is one gathering you won't want to miss! We can't wait to see you there!