The Mid-Atlantic Education Review is a peer-reviewed, online journal that provides a forum for studies pertaining to issues of interest to educators and researchers in the Mid-Atlantic region. The Review publishes articles that contribute to the knowledge base of researchers, policy-makers, teachers, and administrators. To appeal to a broad educational audience, articles cover a spectrum in their level of analysis, subject focus, and methodological approach.
The Mid-Atlantic Education Review's first issue is now publicly available by visiting maereview.org.
NOW ACCEPTING SUBMISSIONS
The editorial board is happy to announce the call for submissions to the second issue of the Mid-Atlantic Education Review. Submissions close on September 15, 2013.  To submit an article please review submission guidelines here.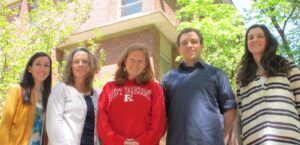 EDITOR
Kevin Crouse
Educational Theory, Organization, and Policy
Teaching quality; educational change and reform
ASSOCIATE EDITORS
Meredith McConnochie Byrnes
Language Education
Connection between home and school literacy practices in Latino communities
Diana Cano
Educational Theory, Organization, and Policy
Accountability policy; Computer-based accountability assessments
Anneliese Haines
Math Education
Pre-service teacher perceptions and training; Student engagement and affect
Jamie Liberti
Learning Sciences
Preschool science education; Collaborative problem-solving
EDITORIAL BOARD
William Firestone
Educational Theory, Policy, and Administration
Sora A. Suh
Learning, Cognition, Instruction, and Development
Mara Conroy Hughes
Theory, Organization, and Policy
CONTACT
If you have questions about the Review or would like more information, please email info@maereview.org
SUPPORT
The Mid-Atlantic Education Review was created through a Goal Advancement Project grant from the Graduate School of Education at Rutgers, The State University of New Jersey.