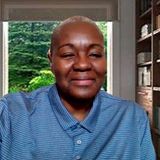 Angela Boyd
Ed.D. student
Education, Culture, and Society
Contact
Research Interests

The influence of white supremacy on the social justice, and action orientation of student affairs professionals.

Biography

I'm a licensed clinical social worker currently working as a psychotherapist at Rutgers-Camden Student Wellness Services with a small private practice. In my thirty-year human services, and social work career, I have worked in numerous settings primarily serving the disenfranchised, and marginalized in various capacities. My passion for social justice, and equity continues to guide my personal, and professional interests.

Hobbies: I'm now learning to swim, and overcome my long-held fear of drowning. So far, I have a pretty decent backstroke!

Home Life: My partner of ten years, and I co-parent one emerging adult, and one teenager.

Why the GSE?

After teaching my first course as a part-time lecturer, I realized that experience, and expertise in my subject area did not result in good pedagogy. One of my goals in entering the program was to learn how to teach.

I hope to incorporate teaching, and research while continuing my clinical social work practice.

Favorite Memory at the GSE

I'm most enjoying cultivating relationships with the fellow-travelers in my cohort.

Advice for Incoming Students

As much as is possible, work hard to compete only with yourself, and to improve your personal best. Comparison to others is a recipe for anxiety. Irrespective of your individual timeline, you will succeed if you persist.