>
>
Saundra M. Tomlinson-Clarke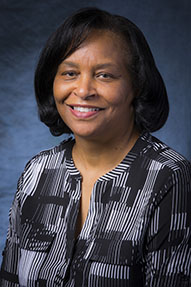 Saundra M. Tomlinson-Clarke
Professor and Provost & Executive Vice Chancellor for Academic Affairs
Educational Psychology

Contact
---
"The educational climate can inspire students to excel in their personal and academic development or it can stifle students and keep them from maximizing their potential."
---
Education:
• Ph.D., Florida State University
• M.A., Atlanta University
• B.A., Boston University

---
Research Work With Students

My research agenda over the years has been in response to current social issues that include the increasingly culturally and linguistically diverse and changing demographic profile of the U.S. population, the underrepresentation of racial-ethnic minority students in the educational pipeline, and the expanding influence of globalization on the lives of individuals worldwide. Maintaining an emphasis on learning and development within a socio-cultural context, my research examines factors that contribute to the personal development and academic achievement of diverse learners in middle school through post-secondary education. I also focus on counseling training models and strategies that increase cultural competencies and assist professionals (e.g., counselors, psychologists, and teachers) in providing culturally responsive services to clients/students.

Recent & Selected Publications

Tomlinson-Clarke, S. M. & Clarke, D. L. (Eds.). (2016). Social justice and transformational learning: Culture and identity in the United States and South Africa. New York, NY: Routledge/ Taylor Francis Group.

Chaudhary, S. R., Coups, E., Hudson, S. V., & Tomlinson-Clarke, S. M. (2015). Evaluating characteristics and outcomes of minority students selecting biomedical laboratory research internship programs. Journal of Woman and Minorities in Science and Engineering, 21, 239-254.

Georges, C. M., & Tomlinson-Clarke, S. M. (2015). Integrating positive psychology into counseling psychology doctoral education. The Counseling Psychologist, 43, 752-788.

Tomlinson-Clarke, S. M., & Georges, C. M. (2014) DSM-5: A commentary on integrating multicultural-strength-based considerations into counseling training and practice. The Professional Counselor, 4, 272-281

Tomlinson, S. M., & Clarke, D. (2013). Critical reflections through an E-learning environment: Examining issues of equity and social justice. International Journal of Technologies in Learning, 19, 27-34.

Tomlinson-Clarke, S. M. (2013). Educational Aspirations and Perceived Barriers to Educational Attainment Among Low-Income, Urban Middle School Students. National Journal of Urban Education and Practice 6, 252-261.

Tomlinson-Clarke, S. M. & Clarke, D. L. (2012). Integrating technology into multicultural training: Enhancing outcomes for didactic and experiential courses. American Counseling Association VISTAS Online, Section IX. The Impact of Technology on Counseling, http://www.counseling.org/ Resources/Library/ VISTAS/ vistas12/ Article_43.pdf

Tomlinson-Clarke, S. M. & Clarke, D. (2010). Culturally-focused community-centered service learning: An international immersion experience. Journal of Multicultural Counseling and Development, 38, 166-175.

Weinstein, C., Tomlinson-Clarke, S, & Curran, M. (2004). Toward a conception of culturally responsive classroom management. Journal of Teacher Education, 55, 25-38.

Weinstein, C., Curran, M., & Tomlinson-Clarke, S. (2003). Culturally responsive classroom management: Awareness into action [Special Issue: Classroom management in a diverse society]. Theory Into Practice, 42, 269-276.

Tomlinson-Clarke, S. (2000). Assessing outcomes in a multicultural training course: A qualitative study. Counselling Psychology Quarterly, 13, 221-231.