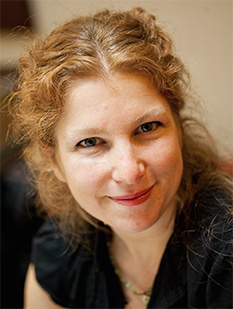 Ravit Golan Duncan
Associate Professor of Science Education
Learning & Teaching

Contact
---
Ravit Golan Duncan is an associate professor of science education with a joint appointment in the Graduate School of Education and the School of Environmental and Biological Sciences at Rutgers University. She received her Ph.D. in Learning Sciences from Northwestern University. She currently has two main research strands: designing and studying of inquiry-based learning environments in life sciences that engage students with modeling and argumentation, and studying learning progressions in science education, and specifically in genetics.
Her work on inquiry learning involves the design and study of scaffolded model-based inquiry learning environments for secondary science students. The scaffolds developed for these environment support growth in epistemic reasoning and specifically target the conceptually challenging task of evaluating evidence quality and relating evidence to competing scientific models. Through this research she has examined the ways in which students construct scientific arguments, whether and how they attend to epistemic features of good evidence and good arguments, and how these capacities develop over time. Given the current reforms in science education understanding how we can better support students' scientific reasoning, and in particular the development of a critical stance towards claims (models) and evidence, is imperative in order to support the development of more effective learning environments and of valid assessments of student learning.
Her work on learning progressions explores central questions about the validity and utility of these constructs for informing curriculum, instruction, and assessment. Towards this end she has developed learning environments in genetics that provide alternate sequences of instruction based on two competing learning progressions for genetics extant in the literature. Both environments focused on the same core ideas and on key scientific practices (modeling and argumentation) but altered the order in which the core ideas were addressed in the units. This research extends our field's understanding of how different instructional contexts interface with the theoretical learning progression constructs. The question of whether we can identify a small set of paths through a putative progression that are invariant (i.e. not dependent on instructional sequence) or whether there are numerous different paths that depend on the instructional and student contexts is a contentious one in the field. The latter finding would reduce the potential of learning progressions to inform curriculum and assessment, whereas the former would suggest that we could develop learning environments that support student growth through a more "universal" set of learning trajectories.
In addition Duncan also coordinates and teaches in the certification program in biological sciences at Rutgers University, and has studied the development of pre-service teachers' knowledge and beliefs as they progressed through the program. Duncan is the recipient of several U.S. federal grants, she is a section co-editor of the journal Science Education and her research has been published in several research and practitioner journals including: Journal of the Learning Sciences, Science, Science Education, Journal of Research in Science Teaching, and Journal of Science Teacher Education.
---
Education:
• B.S. in Biological Science, Hebrew University at Jerusalem (1996)
• M.S. in Biological Sciences, University of Illinois at Chicago (1999)
• Ph.D. in Learning Sciences, Northwestern University (2005)

Affiliations:
• American Educational Research Association (AERA)
• International Society of the Learning Sciences (ISLS)
• National Association for Research in Science Teaching (NARST)
• National Science Teachers Association (NSTA)

---