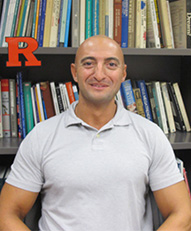 Kenneth J. Tufo Jr.
Student Counselor II
Administration

Contact
---
Kenneth J. Tufo Jr. is a Student Counselor II for the Graduate School of Education at Rutgers University.
He is the Pre-Program Advisor for Five-Year and Post-Bacc Programs and a preliminary contact for admitted Five-Year and Post-Bacc students. He is also responsible for processing all certification applications for GSE students with the NJDOE.
Kenneth holds a Master of Education from Rutgers Graduate School of Education and a Bachelor of Arts from Rutgers University.
---
Education:
• Master of Education from Rutgers Graduate School of Education
• Bachelor of Arts from Rutgers University

---