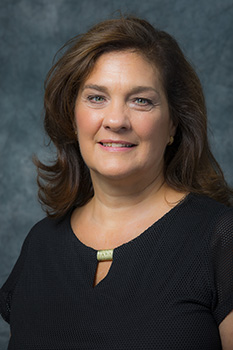 Kathy Shoemaker
Assistant Professor of Professional Practice
Educational Psychology

Contact
---
Kathy Shoemaker, Ph.D., Assistant Professor of Professional Practice in the Department of Educational Psychology, is interested primarily in learning and wellness through a neuroscientific lens. She was inspired to work with students, particularly adolescents, after discovering her passion for helping and mentoring them through her volunteer work at her church's youth group and in her local school district. Dr. Shoemaker is a certified school counselor, a Licensed Professional Counselor (LPC) in New Jersey and an Approved Clinical Supervisor (ACS). She has advanced training in neuroscience, mindfulness, and trauma-informed practice. She studies mindfulness and its effects benefits and on students' academic and social-emotional learning, as well as its impact on test anxiety and student engagement and well-being. Her research also seeks to help people understand how safe school environments are created to give students a grounded atmosphere in which they can become more engaged in their learning. With her experience in school counseling, adolescence counseling, and substance abuse treatment, she trains educators and counselors on a variety of educational and counseling topics and applying these to interventions in schools and community agencies.
Dr. Shoemaker received her undergraduate degree in computer science and worked in the IT field before obtaining a master's degree in counseling and an educational specialist degree in mental health counseling with certification in school counseling. She worked in a community agency as a prevention specialist providing programming to schools and mentoring to graduate students. She then worked as a school counselor at the middle and high school levels. Later, she earned he Ph.D. in counselor education with a goal of teaching the next generation of school counselors to use their training in counseling skills and cultural competency to enhance student academic success, well-being, and college and career readiness.
In addition to her teaching responsibilities, Dr. Shoemaker is an active member of the Traumatic Loss Coalition for Youth of Middlesex County. She is the Vice President for Postsecondary Education within the New Jersey School Counselor Association and President of the New Jersey Counseling Association's chapter of the Association for Counselor Education and Supervision.
---
Education:
• Ph.D. in Counselor Education, Montclair State University (2017)
• Ed.S. in Mental Health Counseling, Seton Hall University (2006)
• M.A. in Counseling, Seton Hall University (2006)
• B.A. in Computer Science, Thomas Edison College (1995)

Affiliations:
• American Counseling Association (ACA)
• American School Counseling Association (ASCA)
• Association of Counselor Education and Supervision (ACES)
• ACES Neuroscience Information Network – Conference Representative
• National Career Development Association (NCDA)
• North-Atlantic Region, Association of Counselor Education and Supervision (NARACES)
• New Jersey Counseling Association (NJCA)
• NJ-ACES President, 2019-20
• NJ-ACES President-Elect, 2018-19
• Education Committee Chair, 2017-18
• Community Outreach and Education Chair, 2016-17
• New Jersey School Counselor Association (NJSCA)
• Postsecondary Vice President, 2015-present
• Traumatic Loss Coalition for Youth

---
Expertise & Research Interest

Neuroscience, mindfulness, social-emotional learning, and multi-tiered systems of support in schools

College and career planning for first-generation college-goers

Substance abuse and trauma-informed counseling

Recent & Selected Publications

Shoemaker, K. A. (March 2019). The neuroscience of mindfulness in counseling: Theory and practical application. ACA 2019 Conference, New Orleans, LA.

Shoemaker, K. A. (February 2019). Mindfulness: Supporting social-emotional learning and well-being in schools. Association of Student Assistance Professionals of New Jersey Conference, Atlantic City, New Jersey.

Pertuit, T.L., & Shoemaker, K. A., (March 2018). Minding your OCD: Using mindful-awareness to rewire the brain and break free from the demands of obsessions and compulsions. New Jersey Counseling Association Conference, Lincroft, New Jersey.

Shoemaker, K. A. (in preparation). Effects of a brief mindfulness intervention on test anxiety and student engagement in middle school: Support for universal intervention in school. To be submitted to the Journal of Counseling and Development.

Shoemaker, K. A. (Summer 2016). Introducing mindfulness into counselor education. North Atlantic Region Association for Counselor Education and Supervision Newsletter.

Shoemaker, K. A. (Fall 2014). Adolescent development and its link to adult well being. New Jersey Association of Adult Development and Aging Newsletter.

Honors & Awards

Doctoral Fellowship, Montclair State University

Sigma Chi Mu Student Grant Award, Montclair State University

College of Education & Human Services Student Research Award

Sigma Chi Mu Chapter of Chi Sigma Iota Academic & Professional Honor Society

Kappa Delta Pi Honor Society Member