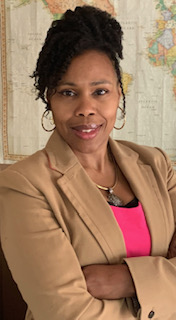 Heather R. Ngoma
Director of Rutgers Alternate Route Program
Learning & Teaching

Contact
---
Heather R. Ngoma is the Director of Rutgers Alternate Route at Rutgers University.
Heather is responsible for the program vision-setting, overall program coordination and supervision of seven regional training sites throughout the state. Heather has over 25 years of experience collaborating with educators across New Jersey to drive education innovation. She is the Founding Director of the Rutgers University Alternate Route Teacher Training Program for the State of New Jersey, a program which has helped more than 2,000 diverse career changers, recent college graduates and other aspiring education professionals become licensed teachers in New Jersey. In her previous role as REL Mid-Atlantic State Coordinator for New Jersey, Heather worked with state policy makers and district leaders to advance the research literacy among education practitioners, identify stakeholder research interests, and help coordinate relevant research initiatives for the region.  Formerly the Director of the New Jersey Charter School Resource Center at Rutgers, Heather developed and managed charter-starter services, helping to increase the state's charter school numbers from 13 1999 to 54 charter schools in 2007.  She has presented at state and national conferences addressing issues of teacher diversity and accountability, and her writing has been published in regional media outlets, including eSchool News, Philadelphia Inquirer, and Asbury Park Press. Heather publishes the Inspiring Teacher Leadership Blog which provides timely news, tips, and resources for educators.
Heather earned her M.A. in English from Middlebury College and her B.A. from Grambling State University.
---
Education:
• M.A. in English from Middlebury College
• B.A. from Grambling State University

---