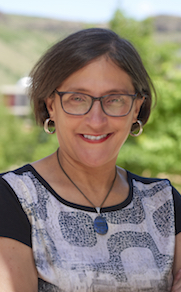 Carrie Lobman
Associate Professor
Learning & Teaching

Contact
---
Dr. Lobman is an educational researcher, trainer, and teacher educator whose research explores the value of improvisation and play for learning and development. She is a nationally recognized advocate for play and creativity for the education of people of all ages. She is a consultant to educational programs internationally, most recently in Dhaka and Sao Paolo. In 2011 she joined the Board of Directors of the All Stars Project, where she serves as a consultant to the launch of its Institute for the Study of Play in Newark, NJ. Dr. Lobman received her Ed.D. in Curriculum and Instruction from Teachers College, Columbia University. She currently serves as the pro-bono director of pedagogy for the East Side Institute. Her publications include: Unscripted Learning: Using Improvisational Activities Across the K-8 Curriculum(Teachers College Press) with Matt Lundquist; and Play and Performance (University Press of America) with Barbara O'Neill.
---
Education:
• Ed.D., Teachers College, Columbia University

Affiliations:
• American Educational Research Association
• National Association for the Education of Young Children
• The Association for the Study of Play
• International Society for Cultural and Activity Research
• National Association for Early Childhood Teacher Educators

---
Expertise & Research Interest

Early Childhood Education

Teacher Education

Play and Playfulness

Performance and Improvisation in Education and Teacher Education

New Approaches to Learning and Development

Recent & Selected Publications

Lobman, C. & Lundquist, M. (2007). Unscripted learning: Using improv activities across the K-8 curriculum. New York: TC Press.

Lobman, C. (2006) Improvisation: An analytic tool for examining teacher child interactions in the early childhood classroom. Early Childhood Research Quarterly, 21 (4), 455-470.

Lobman, C., Ryan, S. (2008). Shifting Policy, Shaping Practice: When Researchers and Advocates Work Together. Accepted for publication toChildhood Education.

Lobman, C. & Ryan, S. (2008) Creating an effective system of early childhood teacher education and professional  development: Conversations with Stakeholders. Accepted for publication inEducational Policy.

Lobman, C. & Ryan, S. (2007) Differing discourses on early childhood teacher development. Accepted for publication in the Journal of Early Childhood Teacher Education.