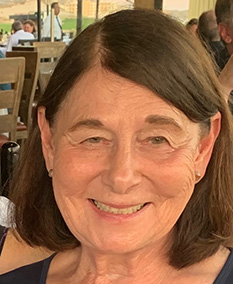 Carolyn A. Maher
Distinguished Professor; Director, Robert B. Davis Institute for Learning; Editor, The Journal of Mathematical Behavior
Learning & Teaching

Contact
---
Carolyn A. Maher, Ed.D., Distinguished Professor of Mathematics Education and Director of the Robert B. Davis Institute for Learning (RBDIL), focuses her research agenda on longitudinal and cross-sectional studies of student's mathematical reasoning and argumentation. She was inspired by her passion to attend to the needs of learners and to uncover much of their untapped potential. Her curiosity then came to include how students learn to reason and how they develop intellectual curiosity. As a prior high-school teacher and college math professor, she was fascinated by how learners build strong understandings of mathematical ideas and ways of reasoning. This ultimately led to her work being funded with National Science Foundation (NSF) research grants and other sources over 3 decades, receiving over 16 million dollars. She gave over 50 invited talks throughout the world and organized and led workshops and courses in South Africa, Brazil and Mozambique. She strives to provide opportunities for all students to succeed by building a strong and meaningful understanding of mathematics and to do so in a collaborative environment. She extends this support to teachers as well in helping them discover effecting teaching methods such as being attentive to the deep knowledge of mathematics; to student differences and strengths; and to learn to organize opportunities for all students to have a voice and grow in their knowledge. Furthermore, she helps teachers to also be aware and attend to the diversity of backgrounds, language, culture, ethnicity, and unique ways of contributing to building knowledge.
Maher pursued Mathematics during her undergraduate career, after which she earned her Master's in Education. She then went on to obtain her Educational Doctorate in Mathematics Education. Maher's work addresses how to improve student learning and teaching while also providing equal access to STEM for all students. She is involved in various professional organizations in both leadership and service roles, including serving as the President for North American Group of the Psychology of Mathematics Education; Chair for the American Education Research Association; and an elected member to the Holmdel Public Schools Board of Education. She is also the Editor-in-chief for The Journal of Mathematical Behavior and served on the editorial boards of The British Journal of Educational Studies and the Journal for Research in Mathematics Education. She considers the legacies and work of all her students to be her proudest achievement.
Recent Grants:
BCC: Collaborative Research: Community Building for Research on Mathematics Learning Using Data-Intensive Sources (2014-2016), award DGE-1439570 funded by the National Science Foundation, $604,661 (with M. F. Palius).
Leveraging existing technologies to build mathematical reasoning and content knowledge of pre-service teachers in an online environment (2013-2014), award from the Goal Advancement Program (GAP), funded by Rutgers University Graduate School of Education, $8,000 (with R. Sigley (PI) and M. Alqahtani)
Collaborative Research: R&D: Cyber-Enabled Design Research to Enhance Teachers' Critical Thinking Using a Major Video Collection on Children's Mathematical Reasoning (2013-2014), Supplemental award DRL-0822204, funded by the National Science Foundation, $198,982
Exploring the use of an available video archive to support learning about child development (2012-2013), award from the Goal Advancement Program (GAP), funded by Rutgers University Graduate School of Education, $7,600 (with S. Golbeck (PI) and C. E. Hmelo-Silver).
---
Education:
• B.A. in Mathematics, Rutgers University
• Ed.M. in Education, Rutgers University
• Ed.D. in Mathematics Education

Affiliations:
• Advisory Board: National Assessment for Education Progress (NAEP)
• Advisory Board : DRK-12 Project, National Science Foundation Funded Research
• Advisory Board: Winsight, Educational Testing Service (ETS)
• European Association for Research on Learning and Instruction (EARLI)
• American Educational Research Association (AERA)
• AERA Special Interest Group Research in Math Education (SIG-RME)
• International Group for the Psychology of Mathematics Education (PME)
• International Group for the Psychology of Mathematics Education, North American Chapter (PME-NA)
• Mathematical Association of America (MAA)
• National Council of Teachers of Mathematics
• Jean Piaget Society
• American Society for Engineering Education (ASEE)

---