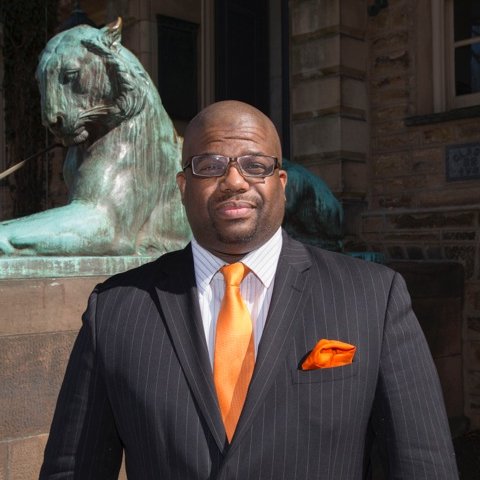 Kevin C. Hudson
Ed.D. student
Education, Culture and Society
Contact
Research Interests

My dissertation will explore the college choice experiences of lower-income Black students enrolled in a most competitive university. I will seek to understand the role of student influencers (administrators, teachers, counselors, advisors, family and peers) on student decision to apply and matriculate to a most-selective university.

Biography

Kevin C. Hudson is a proud father of a newborn daughter and native of East Orange, NJ. He has committed his professional career to expanding access for marginalized communities to selective colleges and university. He currently works as the Associate Director for Diversity and College Opportunity in Office of the Vice Provost for Institutional Equity and Diversity at Princeton University. He began his career as an Admission Officer at Princeton and most recently managed college and career readiness district-wide at District of Columbia Public Schools. As a first-generation and Pell Grant college student, Kevin earned his bachelor's degree from Princeton University and his M.S.Ed in Higher Education Management from University of Pennsylvania. He has served as a reader for several national scholarship programs including Gates Millennium Scholars Program, Jack Kent Cooke Scholars and Dell Scholars Program. Kevin serves on various boards including Delbarton School, New Jersey Scholars Program, Princeton Blairstown Center, College Board Counselor Community Advisory Group, College Board Dream Deferred Conference, and the International Baccalaureate College and University Relations Committee.

Hobbies: I enjoy supporting college and career pathways. Giants, Knicks and Yankees fan. I enjoy sports, a cigar and fine spirits. There is always more to learn about navigating life and people's journeys. I have been referred to as a connector and appreciate the opportunity to connect good people to support each other.

Home Life: Kevin lives with his partner and newborn daughter in East Brunswick, NJ

Why the GSE?

I valued the program's commitment to equity and inclusion and the opportunity to engage and learn from other practitioners and faculty committed to quality education being available to all.

There is always more to learn. I aspire to have a better understanding of approaches or creating an approach to prepare school-based student influencers to guide and advise marginalized students to best-fit colleges and universities. I want to ultimately address the gaps in professional and academic training of educators who engage students every day – moving beyond the anecdotal approaches to advising that currently exists.

Favorite Memory at the GSE

I have appreciated the people: my fellow students and their academic and professional interests and the focus of research and study and teaching of the faculty to help me consider new approaches and applications.

Advice for Incoming Students

Plan out your writing from day 1 or as close to day 1 as you can. Consider how each class and project builds, expands or informs your research topic and use the writing opportunities to go deeper into your research.