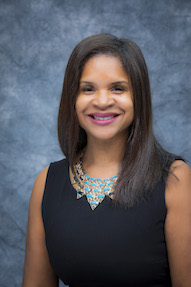 Lisa M. Knox-Brown
Assistant Professor


Contact
---
Lisa Knox-Brown is an Assistant Professor of Professional Practice for the Graduate School of Education's Department of Learning and Teaching. She has extensive K-12 experience, having served as a classroom teacher, Vice Principal, Principal, and professional learning facilitator. Before joining the GSE faculty, in 2016, Dr. Knox-Brown served in these various capacities for communities situated in Urban, rural and suburban communities across New Jersey, for over 20 years.
Dr. Knox-Brown's academic and teaching work is grounded in developing, supporting, and refining structures that empower, prepare, and inspire all educators to meet the diverse needs of the students they serve. She prioritizes students' access to rich, relevant, and culturally responsive education, particularly in contexts where they have been routinely underserved and marginalized by structures of inequity in the public education system.
---
Education:
• ED.D. October, 2020 Rutgers University, Graduate School of Education, New Brunswick, NJ Concentration: Teacher Leadership
• M.Ed May, 2004 Saint Peters University, Jersey City, New Jersey Concentration: Educational Leadership and Supervision
• B.A. May, 1986 Rutgers University, Douglass College, New Brunswick, NJ Major: English

Affiliations:
• American Association of Blacks in Higher Education
• National Alliance of Black School Educators
• American Educational Research Association
• Association for Supervision and Curriculum Development

---
Expertise & Research Interest

Charlotte Danielson Framework Certified

Educational & Teacher Leadership

Teacher Quality

Race & Equity in Education

Research Work with Students

My recent doctoral research was to identify the perceived positive and negative aspects of the multiple social identities of Black Preservice Teacher's (BPT) and Black Preservice Alumni (BPA), who are/were enrolled in a Predominantly White Institution (PWI) Teacher Education Program (TEP). I sought to understand how these participants intersected with macro-level structural factors to illustrate or produce disparate enrollment and retention outcomes. Therefore, I focused on 1) how do the intersections of race, gender and ethnicity produce unique opportunities and challenges for nine BPT's and BPA's, during their varied phases of enrollment at the PWI TEP and 2) how do BPT's and BPA's report understanding and interpreting their experiences of navigating a PWI TEP. By understanding what the BPTs and BPAs in this study experienced I was be able to advance teacher preparation discourse on how to increase enrollment and retention. The goal was to underscore the importance of scholars applying

intersectionality as a tool to gain deeper and more complex understanding of how systems of oppression intersect to shape experiences of people within teacher education.

Recent & Selected Publications

Knox-Brown, L. M. (2020) Through Their Eyes: The Impact of Intersectionality on Enrollment/Retention in a Predominately White Institution. (Doctoral dissertation, Rutgers University-Graduate School-New Brunswick).